FREE SHIPPING ON ALL US ORDERS OVER $85
Orders $50+ (before shipping) get a limited edition incense holder, incense + are entered to win a $300 gift card! Orders of $100+ receive all of that plus a baby selenite tower! Hurry! only Until 12/1/20 at 11:59pm pst.
Paz - Aura Cleansing Mist
Heritage Apothecary
Brighten your energy and your space with Paz, our sonically tuned aura cleansing mist. The fresh, alluring scent of all-natural African lavender, geranium, eucalyptus and chamomile flower creates a high vibrational synergy of botanical aromatherapy. Designed as an alternative to smoke cleansing.   Great for ushering in focus prior to meditation and for gaining clarity. Start your day with a spritz Paz to feel more peaceful, centered and grounded in love. 
Housed in a 2 oz. reusable glass bottle.  This energy cleansing spray is paraben-free, sulfate-free, phthalate-free, petroleum-free & cruelty free.  Paz is purely plant-based and created without synthetic, toxic ingredients.
Ingredient List:  Aqua (Water), Hamamelis virginiana (Witch Hazel) Extract, Lavandula Angustifolia (Lavender) Oil, Eucalyptus Radiata Oil (Eucalyptus), Anthemis Nobilis Flower Oil (Chamomile), Pelargonium Graveolens Flower Oil (Geranium)
Beautiful, lovingly crafted product, excellent customer service. Thank you so much!
-Nia
Gorgeous, intense, intricate, feminine and I can't wait to experience all this kit has to offer. Thank you, your work is beautiful!
-Andrea
Even more gorgeous in person. Arrived promptly in gorgeous, eco friendly packaging. Everything arrived intact. 💛☀️
-Maggie
Jess was amazing at getting in touch with me and making sure the product arrived and in good condition! She is an awesome business owner and I would recommend her shop to anyone for their spiritual needs :) thank you!!
-Kaleigh
Customer Reviews
Write a Review
Ask a Question
Filter Reviews:
Jess
Heritage Apothecary
scent
products
peace
love
Geranium
Chamomile
home/wellness needs
customers
10/15/2020
Madeline P.
United States
Absolutely love this mist!
Clean, fresh, high vibing, invigorating, and I will be buying again! This smells so refreshing, and it instantly raises my vibration. I use it way too much and will have to purchase another bottle ASAP.
09/29/2020
Kristy P.
United States
Love PAZ
This spray makes me so happy. I love the way it smells and it's very soothing to me. Thank you Jess... customer service was amazing!!
09/02/2020
Devin J.
United States
Beautiful Scent and a perfect item to gift
I love the Paz Aura Cleansing Mist. I use it every day in my bedroom and office to set a tone of peace for my day. I love the scent of Lavender, Eucalyptus, Chamomile and Geranium--to me it smells a bit like lychee as well--so refreshing. It's very light and feminine. I actually bought 10 of these sprays to gift to my clients and they each love it! I highly recommend working with Jess and Heritage Apothecary for your own home/wellness needs and gifts for your customers and clients. You can tell these products are made with love! - Devin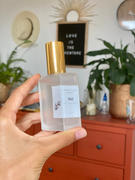 07/31/2020
Amiyah R.
United States
AMAZING !!!
when I spray this mist I envision all of my sadness and stress tricking off of my body. it smells of an old hippy lady you'd bump into at a park. I love this item -amiyah
GL
03/04/2020
Gabriella L.
United States
It Smells Incredible!!!
Awesome! I am actually ordering another bottle right now!